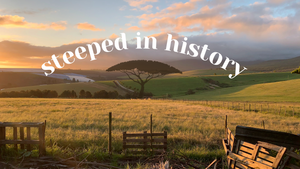 Our Ingredients
Cinnamon
Cinnamon comes from the bark of tree native in Sri Lanka but dates back to Egypt as early as 2000BC. Cinnamon is an aromatic natural bark that is, much sweeter and milder in flavor. In which the inner bark is made into thin strips or quills that are harvested, dried and fermented. Cinnamon have been used for centuries as a flavoring agent that creates rich flavor and aroma along with the overall health benefits.
Benefits:
High in antioxidant
Anti-inflammatory
Promotes healthy digestion
Regulates blood sugar
Cardamom
Cardamom is an herb that is strong, sweet, pungent in flavor and aroma, with hints of lemon and mint. Native to South India green cardamom is a spice made from the seed pods. Which can be enjoyed both whole or ground for food and drink, and have been used in traditional medicines for many centuries.
Benefits:
Diuretic
High in antioxidants
Chewed to refresh thebreath
Digestive aid
Cloves
Cloves are native to countries such as, Indonesia, India, Pakistan, and even areas of East Africa. In which they are dried flower buds from the clove tree. Cloves are a pungent warm spice with an intense flavor and aroma. They are packed with minerals such as, potassium, calcium, sodium, and magnesium. Benefits:
Aiding in digestion
Boosting the immunesystem
Controlling diabetes
Contain anti-mutagenic
Anti-microbialproperties
Fight against oral diseases and headaches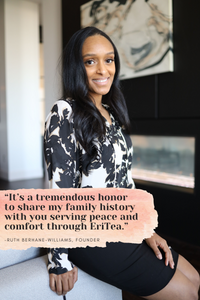 My story, my journey and continuing a legacy with EriTea…
EriTea was created with authenticity and integrity. We believe in serving only the best tea that nature has to offer by refining our family recipe, ensuring we are steeped in history. That's why we knew the name had to reflect family history so it only made sense to incorporate where it all started, Eritrea. With a slight play on words we had our brand name, EriTea! It's our honor to connect to our customers through our responsibly sourced great tasting teas and we hope you enjoy the flavors that date back in time. (read more)
Our mission:
At EriTea, we make high quality herb and spiced infused iced teas that are inspired by family traditions and culture. Every flavor you drink is freshly brewed, lightly sweetened,  all natural and only 80 calories.  With each sip, you support us by combining global connection to global impact. At EriTea we are committed to a conscientious world. Part of the proceeds go to support both local and global ethical campaigns that are designed to help immigrants and refugees become economically self sufficient, socially and civically engaged. In addition, to help gain access to education, jobs and English language programs. (read more)